Fencing Time at the European Junior/Cadet Championships
March 6, 2015
Fencing Time v4.1 has completed ten days of successful operation of the 2015 European Junior/Cadet Championships in Maribor, Slovenia. This is the largest international event run using Fencing Time since it earned FIE homolgation in September 2014.

Three individuals from Fencing Time, LLC travelled to Maribor, Slovenia to operate the event. Two people ran the computers each day and one handled the accreditation of athletes and coaches. Fencing Time, LLC provided computers used to run the event, as well as the computers used to run large displays in the venue. The system easily interfaced with 22 Allstar FMA-21 scoring machines to receive scores directly from the pistes. Fencing Time also worked flawlessly with the Fencing Vision video/live streaming system.

Live results were published throughout the event and can be seen here: Live Results

Fencing Time, LLC is looking forward to future events in the international arena!
Fencing Time v4.1 Earns FIE Homologation
September 1, 2014
Fencing Time, LLC is proud to announce that Fencing Time v4.1 has passed rigorous testing and has been homologatied by the FIE SEMI Commission. This certification now allows the organizers of FIE competitions such as World Cups and Grand Prix to select Fencing Time v4.1 as their tournament management system.

The newly-homologated software will make its international premiere at the upcoming Junior Men's Epee World Cup in Luxembourg. This will soon be followed by several World Cups in San Francisco and Phoenix and a Grand Prix in New York.

Fencing Time v4.1 has not yet been publicly released. If you are hosting a competition which requires FIE homologated software, please contact info@fencingtime.com so that we can provide you with a pre-release version.

See the full press release here.
Fencing Time v4.0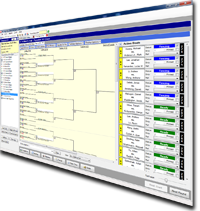 Fencing Time v4.0 is the most sophisticated, yet easy-to-use, software available for managing fencing tournaments of any size. Whether you are running a 10-person event or a 10,000-person national championship, Fencing Time will make the job easy and allow you to provide the best experience for your competitors, coaches, and spectators.
Fencing Time v4.0 was released in September 2013 after nearly three years of development and testing. It represents a huge step forward from past versions, with many powerful new features and a streamlined user interface that lets you optimize your tournament workflow before, both during and after your event.
Fencing Time v4.0 is available in two versions: Standard and Server. Read on to learn more about what each version offers and check out the feature comparison chart to determine which version is best for you!
Fencing Time Server Version

The Fencing Time Server stores your tournament data in a centralized database, which allows you to use any number of computers to manage the tournament simultaneously. You can add additional computers to handle your check-in desk and eliminate paper sign-in sheets completely! Plus, with the Fencing Time server, you can set up an unlimited number of remote monitors at your venue, each displaying customizable tournament information. If you've attended a USFA National Event in the past year, you have seen the Fencing Time server version in action - and now you can have the same technology for your events!
Fencing Time Standard Version

If you don't need the multiple-computer capabilities of the Fencing Time server version, the Standard version includes all of the new features and improvements, and can be run on a single computer just like prior versions of Fencing Time.
International Features

Fencing Time v4.0 introduces the ability to customize its operation and rules to a specific fencing federation. And, if you prefer, you can now run Fencing Time in English (US or UK), French or Spanish!

Fencing Time v4.0 HS is a custom version of Fencing Time designed primarily to serve the needs of high school fencing in the state of New Jersey. For more information on this version, see HERE.
And Much More!
Fencing Time v4.0 has far too many new features to list here! Take a look at the Feature Comparison for highlights, or the Version History for a complete list of new features.
Official Tournament Software of USA Fencing

In September 2011, USA Fencing selected Fencing Time as its official tournament management software. Since January of 2012, Fencing Time has been used to run every North American Cup, Junior Olympics, and Summer National Championships. These tournaments are among the largest fencing tournamemts ever run - Summer Nationals 2012 consisted of over 7,000 fencers competing in nearly 100 events across ten days. Fencing Time was able to easily handle this huge event with no problems. In addtion, Fencing Time has enabled the publication of live tournament results on the internet, making it easy for friends and family to follow their fencers' progress at home.