Introducing Fencing Time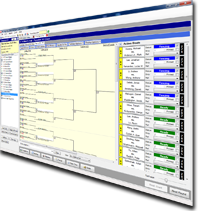 Running a tournament is a complicated and time-consuming process. Even the most efficient tournament organizer must go through the process of ranking fencers, laying out pools, collecting results, and seeding DE tables. Each step requires time and patience. This can be done quickly and more accurately with a computer program specifically designed to efficiently juggle these tasks.
Fencing Time is designed to be easy to use without sacrificing power and flexibility. It quickly organizes competitors, computes seeds, lays out pools and DE tables, and compiles final results. Fencing Time is unique because it is the only program available that was created by a professional software developer that also is a fencer, referee and experienced tournament organizer.
Fencing Time has been available since 2002, and is a stable and mature product that has continued to evolve based on the needs of its users. It is currently in use by hundreds of organizations worldwide, and is now the most popular tournament management software in use in the United States.
Whether you run a small local club with twenty members or organize tournaments for an entire division, Fencing Time will save you time and make your tournaments run more efficiently.
Official Tournament Software of USA Fencing

In September 2011, USA Fencing selected Fencing Time as its official tournament management software. Since then, Fencing Time has been used to run every North American Cup, Junior Olympics, and Summer National Championships. These tournaments are among the largest fencing tournamemts ever run - Summer Nationals 2012 consisted of over 7,000 fencers competing in nearly 100 events across ten days. Fencing Time was able to easily handle this huge event with no problems. In addtion, Fencing Time has enabled the publication of live tournament results on the internet, making it easy for friends and family to follow their fencers' progress at home.